AHA Cream 5 % pH 3.5
Category: Dermatologica
Skin Type: All skin types
Product properties
Fruit acid treatment for mature skin
Stimulates cell renewal
Reduces wrinkles
For an even, soft skin and an improved skin texture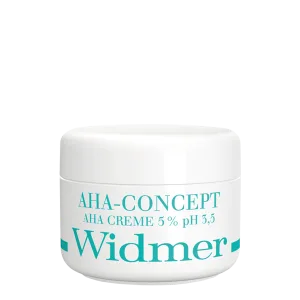 Online shops
Choose an online shop to get your Louis Widmer products from:
Further information about the product
Effect
α-Hydroxy acids from natural and synthetic raw materials stimulate cell renewal
The thickened horny layer of aging skin is exfoliated and the skin is able to retain more moisture
This improves the skin's suppleness and even appearance
The skin becomes smooth and soft
The appearance of ageing skin with a slightly yellow complexion due to strong cornification, becomes brighter and rosy again
Skin blemishes disappear
Improvement of the skin texture
Small skin impurities disappear
Ingredients
AHA acids (glycolic acid, lactic acid, citric acid, malic acid)
Jojoba oil
Panthenol
Vitamin E
Usage
AHA CREAM 5% can be used for the permanent treatment of the skin with AHA acids. At the start of the treatment, the cream is applied once a day. After two to three weeks, the treatment can be intensified and the cream applied twice a day. Thoroughly cleanse the skin with a tonique prior to application. Apply AHA Cream 5% or 10% and leave to soak into the skin for approximately 30 minutes, then apply the day or night cream. AHA cream does not replace the daily skin care routine but acts as a supplement. During treatment with AHA acids, it is important to protect the skin against the sun. We recommend skin care with high to ultra-high UV protection. Following a gentle start with AHA CREAM 5%, treatment can be intensified with AHA CREAM 10%. Apply once a day, ideally at night. For dry skin, night care products can be applied half an hour after treatment. AHA CREAM 10% can irritate the skin and should only be applied once the skin has got used to the AHA treatment
Note
Always apply according to instructions. Avoid contact with the eyes.
In the event of continuing irritation, discontinue treatment and seek medical advice.
It is recommended to cover the areas to which the AHAs have been applied with a sun protection product prior to staying in the sun.
Contact of the product with the skin must be limited in frequency and duration.

non-scented
Aqua, Glycolic Acid, PEG-8 Distearate, Steareth-2, Ethylhexyl Stearate, Steareth-21, Glycerin, Simmondsia Chinensis (Jojoba) Seed Oil, Panthenol, Stearic Acid, Lactic Acid, Sodium Hydroxide, Dibutyl Adipate, Tocopheryl Acetate, Cetyl Alcohol, Dimethicone, Citric Acid, Stearyl Alcohol, Malic Acid, Salicylic Acid, Pantolactone. (FVN100109.0003)