All Day 30
Category: Sun protection, UV Protection, Suncare & Protection
Skin Type: All skin types
Available:
non-scented
lightly scented
Inhalt: 200 ML
Product properties
Light, non-oily texture
Spreads evenly and homogeneously
Instant absorption thanks to liposomal technology
High UVA- UVB and broadspectum filtes provide long-lasting protection
Nourishes and moisturises the skin
Highly effective and water-resistant
Well tolerated, even by extremely sensitive skin and suitable for allergy sufferers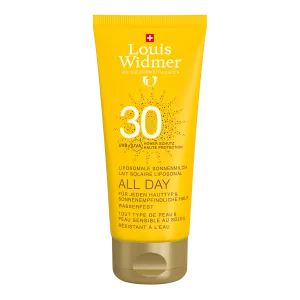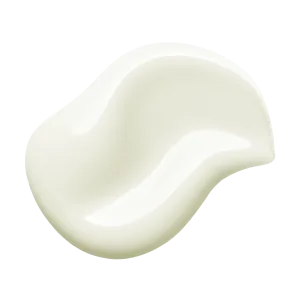 Online shops
Choose an online shop to get your Louis Widmer products from:
Further information about the product
Effect
Highly developed liposome technology now makes it possible to incorporate UVA- UVB and broadspectum filters into the monolayer liposomes. These liposomes penetrate deep into the skin providing long-lasting protection from UV rays, even with frequent water contact
The high concentration of monolayer liposomes guarantees the homogeneous distribution of UV filters in the entire upper layer of the skin
Vitamin E protects against the harmful effects of free radicals and reduces premature skin ageing and skin damage caused by UV radiation. It stimulates the skin's own repair mechanisms
Panthenol and the amino acid L-Arginine enhance the skin's moisture retention capacity and have a normalising effect and soothes irritated skin.
Ingredients
UVA and UVB filters
Broad-spectrum filters
L-Arginine
Vitamin E
Panthenol
Usage
It is important to apply sufficient sunscreen product to guarantee the best possible protection : 1 finger length for the face, 2 finger lengths for the individual body areas. Apply All Day 30 approximately 30 minutes before exposure to the sun. It is recommended to re-apply the product after long periods in the water or sand. The maximum time spent in the sun (depending on skin type) cannot be extended by applying sun protection repeatedly. Important: Avoid eye area!

 After sunbathing, we recommend the use of the soothing and moisturising After Sun Lotion.
Note
Sunscreen products do not offer 100% protection
Avoid exposure to sunlight at midday regardless of the sunscreen factor you are using. Stay in the shade between 11.00 and 15.00
Do not expose babies younger than 12 months to direct sunlight. Use protective clothing, sun hats and a high protection factor on unprotected areas with small children
Excessive exposure to the sun poses a serious health risk
Protection decreases if you apply too little cream
Avoid direct contact with fabrics to avoid stains
non-scented
Aqua, Dibutyl Adipate, Butylene Glycol, Diethylamino Hydroxybenzoyl Hexyl Benzoate, Glycerin, Methylene Bis-Benzotriazolyl Tetramethylbutylphenol (nano), Isoamyl p-Methoxycinnamate, Trimethylpentanediol/Adipic Acid/Glycerin Crosspolymer, Bis-Ethylhexyloxyphenol Methoxyphenyl Triazine, Isopropyl Lauroyl Sarcosinate, Ethylhexyl Triazone, Silica, Butyrospermum Parkii (Shea) Butter, Cetearyl Alcohol, Coco-Caprylate, Diethylhexyl Butamido Triazone, Methylheptylglycerin, Tocopheryl Acetate, Arginine, Lecithin, Panthenol, Tocopherol, Glyceryl Stearate, Sodium Stearoyl Glutamate, Decyl Glucoside, Acrylates/C10-30 Alkyl Acrylate Crosspolymer, Xanthan Gum, Propylene Glycol, Sodium Polyphosphate, Pantolactone, Phenoxyethanol, Ethylhexylglycerin. (FVN100215.0051)
lightly scented
Aqua, Dibutyl Adipate, Butylene Glycol, Diethylamino Hydroxybenzoyl Hexyl Benzoate, Glycerin, Methylene Bis-Benzotriazolyl Tetramethylbutylphenol (nano), Isoamyl p-Methoxycinnamate, Trimethylpentanediol/Adipic Acid/Glycerin Crosspolymer, Bis-Ethylhexyloxyphenol Methoxyphenyl Triazine, Isopropyl Lauroyl Sarcosinate, Ethylhexyl Triazone, Silica, Butyrospermum Parkii (Shea) Butter, Cetearyl Alcohol, Coco-Caprylate/Caprate, Diethylhexyl Butamido Triazone, Methylheptylglycerin, Tocopheryl Acetate, Arginine, Lecithin, Panthenol, Tocopherol, Glyceryl Stearate, Sodium Stearoyl Glutamate, Decyl Glucoside, Acrylates/C10-30 Alkyl Acrylate Crosspolymer, Xanthan Gum, Propylene Glycol, Sodium Polyphosphate, Pantolactone, Parfum, Linalool, Limonene, Hexyl Cinnamal, Citronellol, Citral, Alpha-Isomethyl Ionone, Geraniol, Coumarin, Phenoxyethanol, Ethylhexylglycerin. (FVN100213.017)
"I am proud to be an ambassador for Louis Widmer, a typically Swiss brand I can totally identify with and whose products I have been using for years,"