Carbamid Forte 18% Urea Anti-Callus Foot Cream
Category: Body care, Body Care
Skin Type: All skin types
Product properties
The skin becomes smooth, soft, supple and is protected against drying out in the long term
Effectively reduces existing hard skin and reduces pressure areas
When used regularly, the formation of excessively hard skin is prevented
The Foot Cream with 18 % Urea and fruit acid protects and nourishes the feet whilst providing the skin with intensive moisture and valuable nourishing substances
Absorbes quickly and does not leave behind an unpleasant greasy residue
Also suitable for diabetic foot care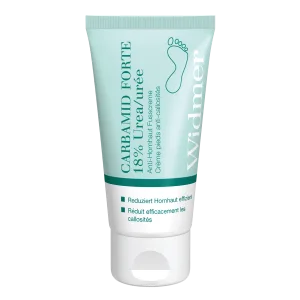 Online shops
Choose an online shop to get your Louis Widmer products from:
Further information about the product
Effect
High concentration of urea reduces calluses
Glycolic acid eliminates dead cells of the upper layer of the skin, makes it soft and improves the look of the skin
Panthenol improves moisturising properties and soothes irritated skin
Vitamin E neutralises free radicals
Menthol has a refreshingly cool effect and neutralises odours. It also reduces itching
Vitamin E neutralises the damaging properties of free radicals, regenerates the skin's barrier and stimulates its own repair mechanism
Ingredients
Urea
Glycolic acid
Panthenol
Vitamin E
Menthol
Silver molecules
Usage
Apply the Carbamide Forte 18% Urea Anti-Callus Foot Cream once or twice each day and massage in gently. Apply the cream liberally to callused areas of skin.
Note
​For external use only. Do not allow the product to come into contact with eyes or mucous membranes. Do not apply to sensitive, irritated or injured skin. Discontinue use immediately if you experience skin irritations. Wash
your hands after application. Attention: Be careful not to slip after applying the cream to your feet. Not for use on children under the age of 3. Keep out of the reach of children. Do not store at temperatures over 25°C.
non-scented
Aqua, Urea, Dicaprylyl Ether, Dibutyl Adipate, Decyl Oleate, Polyglyceryl-4 Diisostearate/Polyhydroxystearate/Sebacate, Propylene Glycol, Butylene Glycol, Euphorbia Cerifera (Candelilla) Wax, Glycerin, Hydrogenated Castor Oil, Panthenol, Glycolic Acid, Tocopheryl Acetate, Magnesium Sulfate, Menthol, Sodium Hydroxide, Tocopherol, Triacetin, Diethylhexyl Sodium Sulfosuccinate, Titanium Dioxide, Pantolactone, Silver Chloride. (FVN100223.0016)
"Dry skin can no longer protect itself sufficiently from external influences."