Deo Dry Stick
Category: Body care, Deodorants
Skin Type: All skin types
Available:
non-scented
lightly scented
Inhalt: 50 ML
Product properties
Inhibits sweating
Optimally tolerated, even by extremely sensitive skin
24-hour effect
No alcohol
Also suitable for use on hands and feet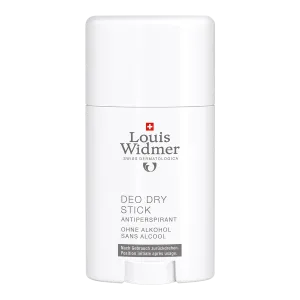 Online shops
Choose an online shop to get your Louis Widmer products from:
Further information about the product
Effect
Aluminium chlorohydrate reduces excessive perspiration
High quality active ingredients neutralise odours and are non-harmful to the skin and allergy sufferers
Ethylhexylglycerin inhibits bacteria on the skin that creates odours
The mild bases ensure optimum tolerability
The deodorant products are well-tolerated even by irritated, reddened skin in the armpit region
Ingredients
Al-chlorohydrate
Ethylhexylglycerin
Usage
All deos are suitable for use under the arms and on the hands and feet. Profuse perspiration in the folds of the body (obese persons) can be treated effectively over a long period of time. One application per day is normally sufficient. In treating hyperhidrosis and in order to in­crease the effect, the products can be applied mornings and evenings. The maximum efficacy, i.e. an antiperspirant effect over a 24-hour period, is obtained after 2 to 3 days' use of the product.
Note
The deodorants may discolour certain textiles if applied too generously. ​Retract after use
non-scented
Dimethicone, Stearyl Alcohol, Aluminum Chlorohydrate, Cetyl Alcohol, Isohexadecane, PPG-14 Butyl Ether, Talc, Hydrogenated Castor Oil, Glyceryl Stearate, Ethylhexylglycerin, Allantoin. (FVN100010.0011)
lightly scented
Dimethicone, Stearyl Alcohol, Aluminum Chlorohydrate, Cetyl Alcohol, Isohexadecane, PPG-14 Butyl Ether, Talc, Hydrogenated Castor Oil, Parfum, Glyceryl Stearate, Ethylhexylglycerin, Allantoin, Linalool, Limonene, Hexyl Cinnamal, Benzyl Alcohol, Geraniol, Alpha-Isomethyl Ionone. (FVN100009.0038)
"I am proud to be an ambassador for Louis Widmer, a typically Swiss brand I can totally identify with and whose products I have been using for years,"