Kids Skin Protection Cream 25
Category: Sun protection, Mother and child, UV Protection, Suncare & Protection
Skin Type: Baby and children's skin
Available:
Inhalt: 100 ML
Product properties
Optimal skin tolerance
No chemical filters
Mineral filters reflect UV rays
Protects, nourishes and moisturises
No colourings, non-scented
Water-resistant
Suitable for babies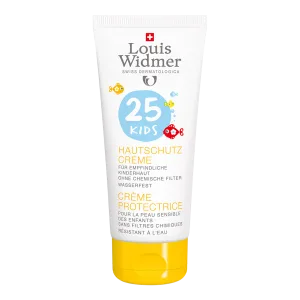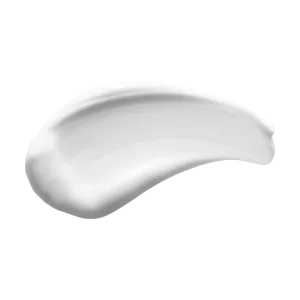 Online shops
Choose an online shop to get your Louis Widmer products from:
Further information about the product
Effect
Specially developed for children, exclusively contains mineral pigments. These protect against UV rays. They lie on the surface of the skin and reflect UV radiation
Vitamin E protects the skin against free radicals and reduces skin damage caused by UV rays. It stimulates the skin's own repair mechanism
Panthenol enhances the skin's moisture retention capacity and has a normalising effect
Water-resistant and perspiration-resistant
It does not contain any chemical sun filters, perfume, or colouring agents
Recommended for children, babys and very sensitive skin
Ingredients
Titanium dioxide
Vitamin E
Panthenol
Usage
It is important to apply sufficient sunscreen product to guarantee the best possible protection : 1 finger length for the face, 2 finger lengths for the individual body areas. Apply Kids Skin Protection Cream 25 evenly on the skin. The product is absorbed quickly and develops its sun protection effect immediately. It is recommended to re-apply the product after long periods in the water or sand. The maximum time spent in the sun (depending on skin type) cannot be extended by applying sun protection repeatedly. IMPORTANT: Small children should always wear clothing when exposed to direct sunlight or stay in the shade.
Note
Sunscreen products do not offer 100% protection
Avoid exposure to sunlight at midday regardless of the sunscreen factor you are using. Stay in the shade between 11.00 and 15.00
Do not expose babies younger than 12 months to direct sunlight. Use protective clothing, sun hats and a high protection factor on unprotected areas with small children
Excessive exposure to the sun poses a serious health risk
Protection decreases if you apply too little cream
Avoid direct contact with fabrics to avoid stains
non-scented
Aqua, Titanium Dioxide (nano), C12-15 Alkyl Benzoate, Tridecyl Salicylate, Isohexadecane, Cyclopentasiloxane, Caprylic/Capric Triglyceride, Glycerin, Polyglyceryl-3 Ricinoleate, Sorbitan Isostearate, Panthenol, Isopropyl Isostearate, Hydrated Silica, Polyglyceryl-2 Dipolyhydroxystearate, Polymethyl Methacrylate, Cetyl Dimethicone, Isostearic Acid, Tocopheryl Acetate, Phenoxyethanol, Magnesium Sulfate, Magnesium Stearate, Hydrogen Dimethicone, Polyhydroxystearic Acid, Alumina, Euphorbia Cerifera (Candelilla) Wax, Hydrogenated Castor Oil, Triethoxycaprylylsilane, Ethylhexylglycerin, Pantolactone, Lactic Acid. (FVN100013.0168)
"I recommend puristic, unperfumed products when caring for baby skin."