Remederm Dry Skin Fluid Body Cream
Category: Body care, Remederm Dry Skin
Skin Type: Dry to very dry skin
Available:
non-scented
lightly scented
Inhalt: 200 ML
Product properties
For dry to very dry skin and skin prone to neurodermatitis
Cares for, nourishes and regenerates the skin
Effective protection against external factors
Ideal for regular use on large areas of skin
Suitable for children and aged skin
Replenishing
Strengthens the skin's barrier function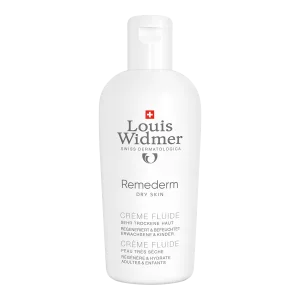 Online shops
Choose an online shop to get your Louis Widmer products from:
Further information about the product
Effect
The semi-fluid Remederm Dry Skin Fluid Body Cream is formulated specially for dry and very dry, chapped and irritated skin
Biostimulators-complex and carbamide moisturise the skin, making it soft, smooth and elastic
Panthenol enhances moisture retention and soothes irritated skin
Vitamin A promotes circulation and normalises cells affected by hardening
Vitamin E neutralises harmful free radicals
Ingredients
Vitamin A
Vitamin E
Panthenol
Urea
Biostimulators-Complex
Usage
Apply once or twice a day of gentle massage. If required, alternate with Remederm Drey Skin Body Cream, i.e. according to the season.
non-scented
Aqua, Isohexadecane, Caprylic/Capric Triglyceride, Ethylhexyl Stearate, PEG-30 Dipolyhydroxystearate, PPG-15 Stearyl Ether, Decyl Oleate, Simmondsia Chinensis (Jojoba) Seed Oil, Urea, Dimethicone, Panthenol, Glycerin, Propylene Glycol, Sorbitol, Tocopheryl Acetate, Phenoxyethanol, Magnesium Sulfate, Paraffin, Cera Microcristallina, Ethylhexylglycerin, Retinyl Palmitate, Collagen Amino Acids, Lactic Acid, Pantolactone, BHT, Tocopherol. (FVN100032.0012)
lightly scented
Aqua, Isohexadecane, Caprylic/Capric Triglyceride, Ethylhexyl Stearate, PEG-30 Dipolyhydroxystearate, PPG-15 Stearyl Ether, Decyl Oleate, Simmondsia Chinensis (Jojoba) Seed Oil, Urea, Dimethicone, Panthenol, Glycerin, Propylene Glycol, Sorbitol, Tocopheryl Acetate, Phenoxyethanol, Parfum, Magnesium Sulfate, Paraffin, Cera Microcristallina, Ethylhexylglycerin, Retinyl Palmitate, Collagen Amino Acids, Lactic Acid, Benzyl Salicylate, Linalool, Pantolactone, Hexyl Cinnamal, Limonene, Alpha-Isomethyl Ionone, BHT, Tocopherol. (FVN100031.0012)
"History shows: Louis Widmer's quality philosophy is as topical today as ever. We have ensured to maintain the essentials over the decades."