Skin Appeal Peeling
Category: Facial care, Cleansing, Acne, Skin Appeal
Skin Type: Blemished to oily skin, Combination skin
Product properties
Mechanical and fruit acid combination peeling
For blemished, oily skin prone to acne
Cleanses the pores
For pure, smooth skin
Improves and refines the skin's appearance
Biodegradable peeling granulate
Antibacterial formula
Non-comedogenic
Also for blemished adult skin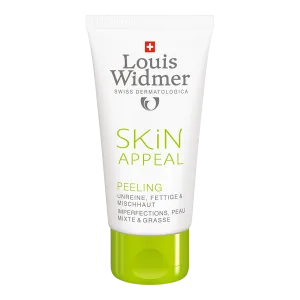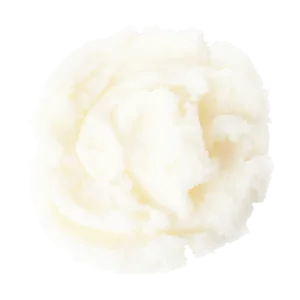 Online shops
Choose an online shop to get your Louis Widmer products from:
Product characteristics
Biodegradable exfoliating granules
Further information about the product
Effect
Double effect
Gentle mechanical peeling: Polycaprolactone removes dead hard skin cells and improves the complexion. Stimulates the circulation. Polydocanol soothes the skin, relieves itching
Chemical peeling: The fruit acid complex (mix of glycolic acid, lactic acid, citric acid, malic acid and salicylic acid) regenerates the skin structure deep down and activates skin renewal
Panthenol improves the skin's moisture retention capacity, protects from skin irritations, soothes and calms the skin
Ingredients
Polycaprolacton
Polydocanol
Fruit acid complex
Panthenol
Undecylenic acid derivative
Usage
Use circular motions to gentle massage the peeling into slightly wet skin. You can adjust the strength of the peeling by adding more or less water. Leave on the skin for a short period (biochemical phase), do not apply around the eyes, and rinse thoroughly. Use regularly three to four times a week for oily/blemished skin.
non-scented
Aqua, Polycaprolactone, Glycerin, Sodium Laureth Sulfate, Laureth-9, Acrylates/C10-30 Alkyl Acrylate Crosspolymer, Glycolic Acid, Panthenol, Disodium Undecylenamido MEA-Sulfosuccinate, Hydroxyethylcellulose, Sodium Hydroxide, Phenoxyethanol, Lactic Acid, Citric Acid, Disodium EDTA, Ethylhexylglycerin, Malic Acid, Benzoic Acid, Salicylic Acid, Pantolactone. (FVN100221.0022)
"History shows: Louis Widmer's quality philosophy is as topical today as ever. We have ensured to maintain the essentials over the decades."
Create your individual care routine for your skin type – developed by our experts.