Difference between baby and adult skin
Main page:Skin topics
article.category:Baby & Pregnancy
Baby skin is not fully developed until the child is six months old. Especially the water-repellent horny layer is still very thin and the skin thus loses a lot more water. In addition, the number of other skin cells is also still lower than that of children and adults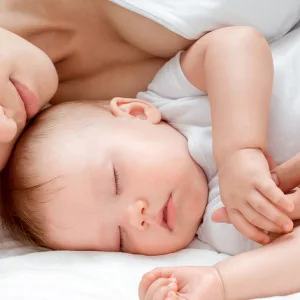 This makes it easy for germs and general substances applied to the skin to penetrate baby's delicate skin. As the protective melanin has not yet fully developed, babies must also be protected particularly well against UV rays.
Children develop the skin structure and density of an adult from around one to two years of age. However, as the ratio between body surface area and total weight remains considerably higher, it is particularly important to provide your baby's skin with sufficient moisture to prevent it from drying out.
Sensitive baby skin has to «learn» a lot in the first few months. It is constantly changing and care should be taken not to disrupt this development. The delicate skin nevertheless needs regular and balanced cleansing and care. It is particularly important to protect it against drying out as well as sun and cold. With the right baby care, reddened skin patches (e.g. in the nappy area) normalise quickly and thus are protected against bacteria and hazardous substances that penetrate the skin.
Preparations that do not penetrate deeply but only act on the surface of the skin are ideal for cleansing. With increasing age, suitable sun protection also becomes increasingly important to ensure that the sensitive skin of the child is protected against long-term UV damage when playing and bathing.
Baby skin
Baby skin has a thinner upper layer than adult skin. The papillae and blood vessels penetrate deeper into the upper layer of the skin. The cells of your baby's skin are smaller and placed wider apart. This makes the skin more porous.
We have developed our BabyPure baby care products in this spirit with lots of clarity and puristic thinking.