We have added Louis Widmer Rich Day Cream UV 30, a day cream with an intensive moisture content that reduces wrinkles, to our Anti-ageing Intensive product range. Thanks to its pleasant texture, our new anti-ageing cream settles like a soothing film on the skin, supplies it with valuable ingredients and moisture and protects it against environmental stress factors. Together with the Rich Night Cream, these two anti-ageing creams are a powerful and unique duo for combating wrinkles or skin ageing.

The benefits of Rich Day Cream UV 30

A good anti-ageing day cream should protect the skin and at the same time provide it with enough moisture. Our anti-ageing cream acts in the top skin layers during the day and actively prevents small wrinkles, dehydration and a pale complexion. When applying Rich Day Cream UV 30 in the morning, it acts as a make-up base and improves its adhesion. It also leaves the skin feeling supple and soothed and protects it all day long.

As our skin cells require various active ingredients to appear youthful and fresh, we have enriched our Day Rich Cream UV 30 with protecting as well as boosting active ingredients. Matrixyl® 3000 is one of the most important active anti-ageing ingredients. It fills in wrinkles from the inside, reduces signs of early skin ageing and gives smoother and firmer skin. Ceramides are another active key ingredient in our Rich Day Cream UV 30. They retain moisture in the skin and thus strengthen the natural skin barrier. This leaves the skin supple and soft. With its UV filter 30, the day cream protects the skin against the sun every single day. Dragosine® stimulates collagen synthesis and also protects the skin against UV, infrared and blue light. Hyaluronic acid is the single most important active ingredient in our anti-ageing cream. Because the main property of this allrounder is its impressive ability to retain water. Hyaluronic acid can bind 1,000 to 4,000 times its own weight in water. This gives the skin the ability to be toned and firm and at the same time elastic.

We have used a combination of two different hyaluronic acids for our Rich Day Cream UV 30. Namely fragmented and film-forming hyaluronic acid. The fragmented hyaluronic acid acts as a collagen booster for improved tone and skin-water balance Together with the biostimulators (amino acid complex), they stimulate cell cohesion and collagen synthesis. The film-forming hyaluronic acid, on the other hand, moisturises intensively and leaves a satiny soft feeling on the skin.

Increase in skin moisture in per cent

Various studies have been conducted to show the effect of the new Rich Day Cream UV 30. Together with a dermatological institute in Germany, a survey was conducted amongst 20 women between 20 and 62. The increase in skin moisture over 24 hours after a single application was tested. The result proved that the skin still contained 4.8% more moisture after 24 hours than when no day care was applied and that the skin, therefore, continues to feel soft and supple all day long.

Long-term moisture content study – six weeks

The long-term moisture content of our Rich Day Cream UV 30 was tested in another study. It proved that after regularly applying the anti-ageing cream for more than six weeks, the skin's moisture content increased by 16.1%. With the help of systematic analysis, the skin's change was displayed in a graphic. The change in the blue colour and its intensity shows how the moisture content changes. The skin is much more moisturised after six weeks.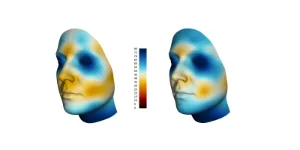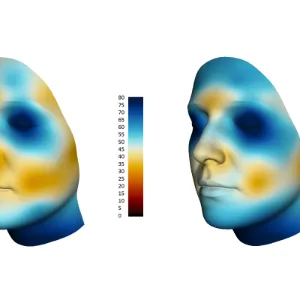 Tolerance study

The good tolerance of our products is of utmost importance. Together with a dermatological institute in Germany, 50 persons between 19 and 70 were tested for their tolerance to our new Day Rich Cream UV 30. None of the test participants showed any allergic reactions and the anti-ageing cream was given an excellent mark as a result.

Wrinkle depth

A mean face (which shows the average value of all test participants) was used for displaying and analysing the skin's change after applying the anti-ageing cream. The main aspect tested for was wrinkle depth. The female test participants' wrinkle depth decreased by up to 16.3% after six weeks.

Rich Day Cream UV 30 was found to be very good with regard to product quality, product performance and application.
Remember!

Whilst we are asleep during the night, our skin is busy regenerating and repairing cell damage. A suitable cream is needed to support the regeneration process as much as possible. It does not necessarily have to have a protective effect, but should help the skin renewal process. Our Rich Night Cream develops a deep effect during the night which nourishes and relaxes the skin. Unlike the anti-ageing day cream, the anti-ageing night cream transports the high-dosed active ingredients into the deep skin layers where they can develop their boosting and regenerating effect. This reduces small wrinkles and the skin is toned and smoothed. For a youthful, fresh and glowing complexion.