BabyPure Care and Massage Oil
Category: Mother and child, BabyPure
Skin Type: Baby and children's skin
Available:
Inhalt: 150 ML
Product properties
​Gentle, soothing care oil
Pampering care for the skin
With natural jojoba, almond and sunflower oil
Perfect for that loving baby massage
Gentle cleansing for the nappy area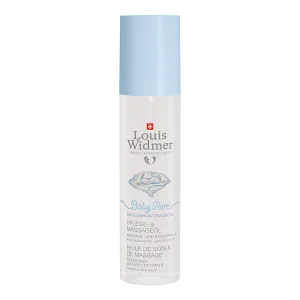 Online shops
Choose an online shop to get your Louis Widmer products from:
Further information about the product
Effect
The gentle, soothing Care and Massage Oil pampers baby's skin with natural jojoba, almond and sunflower oil. A loving touch on baby's skin created through care and massage
The puristic formula has been microbiologically and dermatologically tested and shows ultimate tolerance
The oil is free from perfume, colourings, mineral oils, silicone, alcohol and preservatives*
Jojoba and almond oil care for and protect the skin and keep it smooth and moist
Sunflower oil has replenishing properties, is easily absorbed and does not leave any oily residue on the skin
Vitamin E neutralises the harmful properties of free radicals, has a regenerative effect on the skin's natural barrier and stimulates the skin's own repair mechanism
Bisabolol, an active of camomile, has soothing properties and inhibits irritation, making it perfect for cleansing the sensitive skin in the nappy area
Helps to soften and detach dandruff in the case of cradle cap
* Annex V, (EC) N°1223/2009

Ingredients
Sunflower oil
Jojoba oil
Almond oil
Vitamin E
Bisabolol
Usage
Spray BabyPure Care and Massage Oil on the palms of your hands and gently massage in. Warmup the care and massage oil in your hands and gently spread and massage it in for a relaxing baby massage. Go to our website if you would like to read instructions. For gentle cleansing of the sensitive skin in the nappy area: Apply BabyPure Care and Massage Oil to a cotton pad and cleanse baby's skin. Tip: Also helps to clear cradle cap. Gently pad baby's head with a cotton pad, let it work overnight and gently detach the dandruff with a soft brush or sponge the next morning. Use BabyPure Shampoo and Wash Lotion for washing hair and scalp. Also suitable for adult and children's skin (can be used on both face and body).
non-scented
Coco-Caprylate, Helianthus Annuus (Sunflower) Seed Oil, Caprylic/Capric Triglyceride, Triolein, Isoamyl Laurate, Prunus Amygdalus Dulcis (Sweet Almond) Oil, Simmondsia Chinensis (Jojoba) Seed Oil, Tocopheryl Acetate, Isoamyl Cocoate, Bisabolol, Tocopherol. (FVN101050.0002)
"I recommend puristic, unperfumed products when caring for baby skin"