Deodorant Aluminium Salts free Cream
Category: Body care, Deodorants
Skin Type: All skin types
Available:
non-scented
lightly scented
Inhalt: 40 ML
Product properties
Effective for 24 hours
Odour-neutralising
Mild freshness and protection
Optimal tolerance
No alcohol
No residue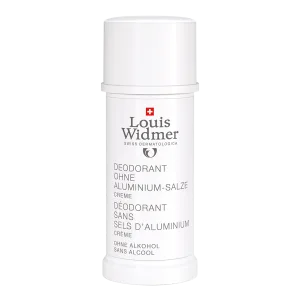 Online shops
Choose an online shop to get your Louis Widmer products from:
Further information about the product
Effect
Contains high quality active agents with a broad spectrum that are non-harmful to the skin and allergy sufferers
The mild basis ensures optimal tolerance, even for highly sensitive skin, and is also tolerated by irritated, reddened skin in the axillary region
Anti-perspirant natural complex, a combination of sage and horsetail, inhibits perspiration and normalises the excretion of the sweat glands
SymDeo® B125 and Octopirox® reduce body odour and control the growth of bacteria on the skin, which creates odours
Ingredients
Anti-perspirant natural complex
SymDeo® B 125
Octopirox®
Silver molecules
Usage
The Deodorant Aluminium Salts Free Cream can be used for the arm pits as well as hands and feet. It is applied once a day as a rule.
Note
The deodorants may discolour certain textiles if applied too generously.
Retract after use.
non-scented
Aqua, Propylene Glycol, Triethylhexanoin, Distarch Phosphate, Paraffinum Liquidum, Stearic Acid, Sorbitol, PEG-8 Distearate, Steareth-2, Steareth-21, PPG-15 Stearyl Ether, Phenoxyethanol, Dimethicone, Propanediol, 2-Methyl 5-Cyclohexylpentanol, Piroctone Olamine, Acrylates/C10-30 Alkyl Acrylate Crosspolymer, Diethylhexyl Sodium Sulfosuccinate, Titanium Dioxide, Equisetum Arvense Extract, Silver Chloride, Salvia Officinalis (Sage) Oil. (FVN101020.0068)
lightly scented
Aqua, Propylene Glycol, Triethylhexanoin, Distarch Phosphate, Paraffinum Liquidum, Stearic Acid, Sorbitol, PEG-8 Distearate, Steareth-2, Steareth-21, PPG-15 Stearyl Ether, Phenoxyethanol, Parfum, Dimethicone, Propanediol, 2-Methyl 5-Cyclohexylpentanol, Piroctone Olamine, Acrylates/C10-30 Alkyl Acrylate Crosspolymer, Diethylhexyl Sodium Sulfosuccinate, Titanium Dioxide, Equisetum Arvense Extract, Silver Chloride, Salvia Officinalis (Sage) Oil. (FVN101021.0027)
"History shows: Louis Widmer's quality philosophy is as topical today as ever. We have ensured to maintain the essentials over the decades."