Hand Balm UV 10
Category: Body care, UV Protection, Body Care
Skin Type: All skin types
Available:
non-scented
lightly scented
Inhalt: 50 ML
Product properties
Protection factor 10
Day use
Moisturises and nourishes
Soothes reddened and irritated skin
Protects against skin ageing cause by UV rays, prevents age spots
Water-reppellent
Absorbed instantly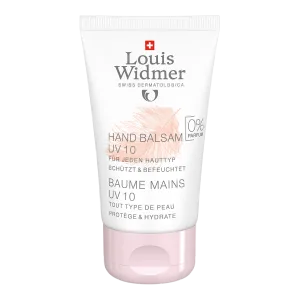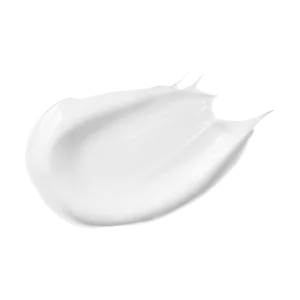 Online shops
Choose an online shop to get your Louis Widmer products from:
Further information about the product
Effect
Provides long-lasting protection
The combination UVA and UVB filters prevents the formation of hyperpigmentation on ageing skin. UV rays are responsible amongst other things for the premature ageing of the skin
Biostimulants moisturise the corneous layer
Vitamin A regenerates the skin damaged by UV rays
Vitamin E as an antioxidant neutralises the damage of free radicals and prevents premature skin ageing
Panthenol and allantoin regenerate the skin tissue and soothe irritated skin
Bisabolol also has soothing properties
Ingredients
Biostimulators-Complex
Vitamin A
Panthenol
Vitamin E
Allantoin
Bisabolol
UVA and UVB filters
Usage
Apply Hand Balsam UV 10 sparingly during the day. Massage more of the regen­erating hand balm in at night.
non-scented
Aqua, Glycerin, Dibutyl Adipate, Isopropyl Myristate, Butyl Methoxydibenzoylmethane, Cetearyl Alcohol, Octocrylene, Sorbitol, Phenylbenzimidazole Sulfonic Acid, Polysilicone-15, Arginine, Dimethicone, Ethylhexyl Stearate, Panthenol, Phenoxyethanol, Cetearyl Olivate, Potassium Cetyl Phosphate, Propylene Glycol, Sorbitan Olivate, Acrylates/C10-30 Alkyl Acrylate Crosspolymer, Allantoin, Tocopheryl Acetate, Retinyl Palmitate, Ethylhexylglycerin, Bisabolol, Disodium EDTA, Hydroxyethylcellulose, Xanthan Gum, Tocopherol, Collagen Amino Acids, Lactic Acid, Pantolactone. (FVN100058.0016)
lightly scented
Aqua, Glycerin, Dibutyl Adipate, Isopropyl Myristate, Butyl Methoxydibenzoylmethane, Cetearyl Alcohol, Octocrylene, Sorbitol, Phenylbenzimidazole Sulfonic Acid, Polysilicone-15, Arginine, Dimethicone, Ethylhexyl Stearate, Panthenol, Phenoxyethanol, Cetearyl Olivate, Potassium Cetyl Phosphate, Propylene Glycol, Sorbitan Olivate, Parfum, Acrylates/C10-30 Alkyl Acrylate Crosspolymer, Allantoin, Tocopheryl Acetate, Retinyl Palmitate, Ethylhexylglycerin, Bisabolol, Disodium EDTA, Hydroxyethylcellulose, Xanthan Gum, Tocopherol, Collagen Amino Acids, Lactic Acid, Pantolactone. (FVN100057.0015)
"Louis Widmer products are distinguished by their high content of active ingredients and their optimal tolerability. For efficacy and safety, we work with leading dermatological clinics and our products are manufactured under optimal hygiene conditions in pharmaceutical clean rooms."