Hand Cream
Category: Body care, Body Care
Skin Type: Dry to very dry skin
Available:
non-scented
lightly scented
Inhalt: 50 ML
Product properties
Regenerates and restores even rough, chapped skin to being soft and smooth
Soothes reddened, irritated skin
Intensive nourishment
Natural argan oil protects and nourishes the skin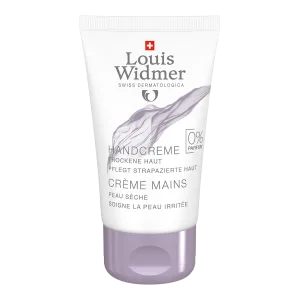 Online shops
Choose an online shop to get your Louis Widmer products from:
Further information about the product
Effect
Regenerates the skin of the hands
The formula ensures that the active ingredients penetrate all the way to the deeper layers of the skin where they develop their nourishing and moisturising effect
The vitamins stimulate the skin functions, check inflammation and delay premature keratinisation of the epidermis
Carbamide keeps the skin moisturised
Lactic acid restores the acid mantle of the skin which is often adversely affected by external factors (household detergents, housework, gardening etc.)
Also suitable for the treatment of chapped and dry hands
Ingredients
Biostimulators-Complex
Vitamin A
Urea
Vitamin E
Panthenol
Argan oil
Usage
Massage Hand Cream in thoroughly at night to allow the regenerating active ingredients to take effect overnight. The efficacy of the Hand Cream will be increased by wearing cotton gloves overnight. For the daytime, Hand Balm is recommended as often as necessary. Hand Cream should also be used during the day for rough, chapped and dry hands.
non-scented
Aqua, Decyl Oleate, Isopropyl Myristate, Isopropyl Isostearate, Urea, Propylene Glycol, Butylene Glycol, Sorbitol, Polyglyceryl-3 Ricinoleate, Sorbitan Isostearate, Euphorbia Cerifera (Candelilla) Wax, Tocopheryl Acetate, Panthenol, Phenoxyethanol, Paraffin, Glycerin, Magnesium Stearate, Cera Microcristallina, Argania Spinosa Kernel Oil, Magnesium Sulfate, Retinyl Palmitate, Dibutyl Adipate, Ethylhexylglycerin, Collagen Amino Acids, Tocopherol, Lactic Acid, Pantolactone. (FVN100064.0014)
lightly scented
Aqua, Decyl Oleate, Isopropyl Myristate, Isopropyl Isostearate, Urea, Propylene Glycol, Butylene Glycol, Sorbitol, Polyglyceryl-3 Ricinoleate, Sorbitan Isostearate, Euphorbia Cerifera (Candelilla) Wax, Tocopheryl Acetate, Panthenol, Phenoxyethanol, Paraffin, Glycerin, Magnesium Stearate, Cera Microcristallina, Argania Spinosa Kernel Oil, Magnesium Sulfate, Retinyl Palmitate, Parfum, Dibutyl Adipate, Ethylhexylglycerin, Collagen Amino Acids, Linalool, Citronellol, Alpha-Isomethyl Ionone, Limonene, Geraniol, Tocopherol, Lactic Acid, Pantolactone, Hexyl Cinnamal, Amyl Cinnamal, Eugenol, Benzyl Alcohol. (FVN100024.0009)
"History shows: Louis Widmer's quality philosophy is as topical today as ever. We have ensured to maintain the essentials over the decades,"